ProSens is a new line of modern industrial devices, which integrates transmitters, displays, meters and controllers functionalities.
Modern transmitters, meters, controllers.
About company
SIMEX - THE MANUFACTURER AND SUPPLIER OF INDUSTRIAL AUTOMATION EQUIPMENT
Our products are the result of thirty years of experience in the field of industrial automation and many thousands of hours of concerted effort on the part of our committed engineering team. The design and manufacturing of our products incorporates latest developments in microprocessor and SMT technologies, resulting in their high quality and reliability. Flexible, user-friendly programming makes them an ideal tool for industrial process control. They will ensure smooth efficient and trouble-free running of your plant or production line and will bypass the need for many costly pieces of equipment necessary in traditional style of process control. All in all, they are an investment for the future you can't afford to miss.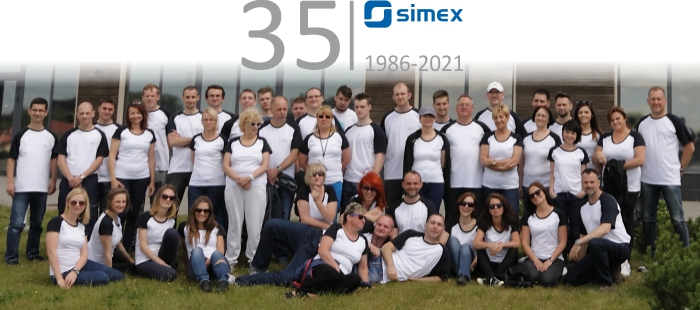 BRIEF BUSINESS HISTORY
SIMEX Ltd. was incorporated in Gdynia in 1986 as a private limited company. In the initial period, the company employed five people and specialised in general electronic and electromechanical design and trade. Later on, as the company grew bigger, it started to design and manufacture, as well as re-sell, measuring and control equipment.
First products individually designed and manufactured by Simex were custom-designed pulse and time counters produced to order in short series. Gradually, over a period of several years the company designed and produced a wide range of counters, indicators, programmable controllers, data records and other related designs.
As the company grew bigger it changed its production profile and organisational structure. Thanks to substantial investments in equipment and machinery the company managed to constantly improve its position in the increasingly competitive market of industrial automation products.
SIMEX Ltd. is continously widening its retail network all around the world.
Company received ISO 9001:2015 certificate comprising "Design, manufacturing and sales of industrial control and measuring equipment. Providing services within the integration of automatic control systems."

OUR MISSION AND VISION
Mission and policy: Long-term meeting of interests of all partners - buyers, owners, employees and social environment.
Vision: To develop into a world-renowned multi-programme supply company in the area of precision mechanics, electrical mechanics and electronics with our own development of demanding systems, products and technologies.

PROCESS OF CONSTANT IMPROVEMENTS
Long-term good performance of the Company is ensured by the process of constant improvements, meeting all requirements agreed with the buyer, high quality, no pollution of the environment, satisfied employees and buyers. This is possible to be achieved only by a continuous process of improvement of all products, services and capabilities of the Company as a whole. The process of improvement is carried out in all parts of the Company with active participation of each individual.
SIMEX Ltd. specializes in advising on, designing and suppling industrial automation systems to the industry. We offer:
- Advising on and technical consultancy,
- Designing of automation systems - from simple few measuring points systems to more sophisticated and advanced control systems,
- Assembling and supplying measuring and control instruments – our own meters as well as instruments manufactured by local and foreign companies,
- SCADA systems,
- Installation and start up of designed systems,
- Customer's training and support,
- Warranty and after warranty maintanance (teleservice).

R & D Department
Our R & D department provides the following design works:
- new designs of electronic instruments including specialized and customized products and applications,
- building and testing prototypes of new designed instruments,
- EMC tests in our own EMC laboratory.

We employ qualified and experienced engineers - graduated from Technical University of Gdansk.